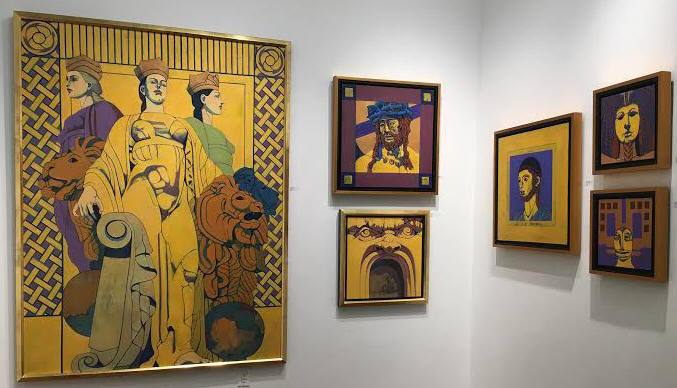 Levinson's painting "Las Reinas Tres" depicts three crowned female figures, each armored and cloaked in billowing fabric. At their feet sit three lions and two globes, as if to drive the point across that these women tower above us. This piece of artwork was based off a statue Levinson photographed in Spain. Levinson said most of her pieces are based off of statues she photographed while abroad. This explains why it is difficult to nail down the period that Levinson's collection is based on; her paintings are based on statues from various eras and cultures, the subjects of which range from the Virgin Mary to Buddha and from Greek gods to Victorian women.
John Blee and Dee Levinson's paintings are aesthetically pleasing to the eye, making them accessible even to those with no knowledge of art. Though some may say that the paintings come off as slightly esoteric, needing to be interpreted and examined for meaning. The artists who created them both assert that the paintings are visual representations of their own experiences. I would encourage any art lover who attends the Touchstone Gallery not to attempt to find the artist's intended meaning behind each painting, but rather to see each painting for it's visual beauty and to find personal meaning within each.
This collection will be on display at the Touchstone Gallery, located at 901 New York Ave NW, Washington, DC 20001, till February 28th.
http://georgetownvoice.com/2016/02/10/80784/